lazyme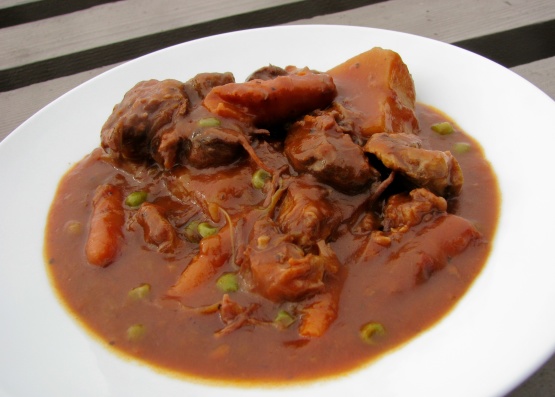 This is the best beef stew I've ever had. The cooking times are off because it's just best to let it cook all day. It works very well in the crockpot.

We enjoyed this wonderful, hearty, stew. I made it exactly as it was written. The bay leaves and rosemary were just the right combination. The next layer of flavor came from the red wine. Thanks for posting this wondrful recipe. I will make it again.
Heat oil in large pan over med-high heat.
Add beef and saute for five minutes, browning on both sides.
Remove meat from pan.
Add onion and garlic.
Saute five minutes.
Add wine, tomato sauce, 1 cup beef broth, rosemary, bay leaves, and pepper.
Bring to a boil.
Add beef and simmer 1 hour.
Add rest of broth, vegetables and simmer for at least one hour, until vegetables are tender and meat is falling apart.
Add the flour and water and cook five more minutes.