Harvard Beets for the Freezer (or Right Away)
Catnip46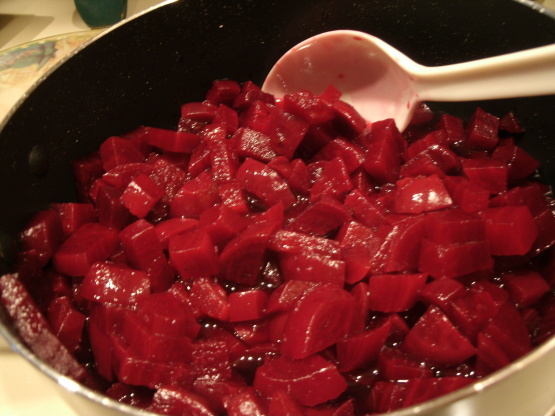 The only way to eat beets! When I harvest my beets in the fall I always make up a few batches of this for the freezer-they're just as good reheated and it's a wonderful quick veggie for winter! To prepare fresh beets, I cover them with water, cook for 30 minutes to an hour till tender, then peel and cube. This recipe is a Swedish family tradition. The long cooking time includes the time the beets need to marinate.

I made this recipe and froze it last summer and just this week thawed a package and served them at supper. DH and I both really liked them. We love pickled beets, but this was a nice change and a way to serve them hot, thanks Kaarin!
Mix the sugar, cornstarch, vinegar and water in a pot and boil 5 minutes, stirring often.
Add the beets, toss to coat.
If you are freezing: put one batch in a quart size bag or container, and make a note to add 2 tablespoons butter when reheating.
If you are eating them now: Let stand for at least 30 minutes.
Just before serving, add the butter and reheat to the boiling point.