Harry's Zucchini Ginger Marmalade
Kathy228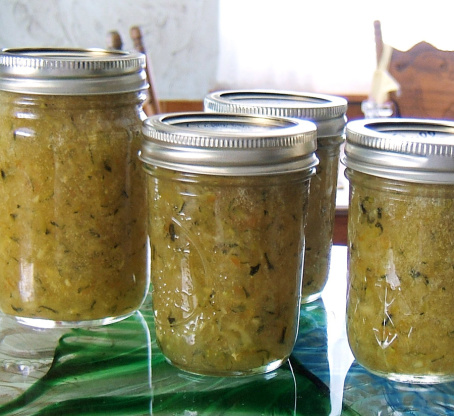 This is my brother Harry's recipe (except for the addition of the ginger) and it is great flavored marmalade for toast or glaze a chicken with it. Economical and very tasty.If you don't like ginger leave it out this how his original recipe was. Harry's a good cook so trust me this is a great spread.

This is so good. I halved the recipe with no problem.I was hesitant to use gelatin so I used powdered pectin instead. And I peeled only half of the zucchinis. This marmalade has such a lovely ginger flavor mingled with the citrus. I really like this recipe. Thank Harry for me, Bergy!
Squeeze the juice from the fruit then shred the peels, remove the pith from peel before shredding Put all the ingredients, including juice into a large pot, sprinkle in the gelatin
Bring to a boil and simmer for at least an hour.
Ladle into sterilized pint jars.
Seal, if not sealed water bath for 10 minutes.