Harry & Davids Sweet and Hot Pepper and Onion Relish Clone
Kasey M.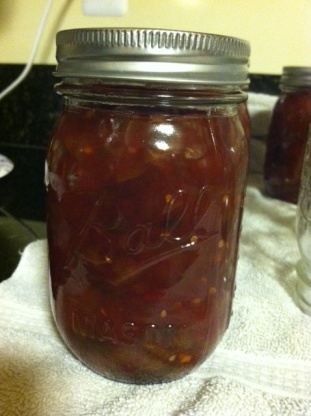 This recipe came from http://www.recipe-recipes-message-board.com/forum/view_topic.php?id=3467&forum_id=37 and was posted by forum member "thebuca". I've not tried it myself but I have heard it is wonderful! Update: I've now made this several times and it is fantastic. For some reason *after* canning it loses quite a bit of heat - as other reviewers have stated - I upped the quantity of Jalapeno's to 6, left the seeds in 2 and added a habanero. Too hot for me prior to canning, but afterwards it was perfect for my tastes. As to the sugar to liquid comment - I've not had any issues with mine not setting but it's worth bearing in mind. I also don't pressure can, I use a water bath and it works quite well.

Love this recipe! I have made it several times and each time it came out wonderful. Here are a few suggestions. I like it with a little more heat so I use about 12-16 jalapeno peppers. Also, if you like Harry & Davids Hot & Smokey Pepper and Onion relish, try adding a 7 oz can of Chipotle peppers with Adobo sauce to the recipe. Also, I have had great luck using 5 - 14 oz. cans of stewed diced tomatoes. One other quick note: I have found that if you take your time with the cooking, allowing it to thicken through evaporation, that the pectin may not be necessary. Just test it on a small plate that has been in the freezer for a few minutes and see if it is thick enough. Just be sure to go low and slow and stir more frequently as it thickens to prevent scorching.
6

cups tomatoes, skinned, diced and drained

6

large red peppers, diced (I used multiple colors from garden)

8

cups sugar

2

tablespoons salt

4

ounces pectin

3

cups white vinegar

1

teaspoon ground red pepper

2

jalapeno peppers, seeded and diced

3

large onions, diced
* Recipe called for two small boxes of pectin - I have no idea if a small box is 1 or 2 ounces so I guess at 2 ounces -- so be careful!
Mix all ingredients together, except pectin and bring to a boil.
Turn down and simmer for 2 - 2 1/2 hours until thickened.
Whisk in the 2 boxes of pectin and boil for 1 minute.
Pour into sterile jars.
Process in pressure canner at #11 for 15 minutes.
Notes: I increased the peppers and the ground red. I actually used scotch hots and it still lost some of the heat in the canning process. This always happens to me! Go ahead and be a little generous on the heat because it seems to leave the product after canning. Also, in using the 8 cups of sugar, you need the hot pepper to balance out the sweet.
It seems like a long time to cook but it makes a beautiful transformation from orange/red to a deep jewel ruby red. It is necessary to cook it the 2 hours because it becomes thick (unlike fresh salsa that stays thin).
Recipe reads that it makes about 7 pints. Not sure about that since I increased the vegetables. I would can in jelly jars because one mixed with 2 (8 oz) packages of cream cheese was plenty of dip.
I did not pressure can. I water-boiled for 10 minutes. They all set up perfectly.
It was a success. Tasted great, just wish it was a little spicier. I added cayenne to my cream cheese mixture.