Harissa, Harisa, Haresa Arabic Semolina Cake
Baker30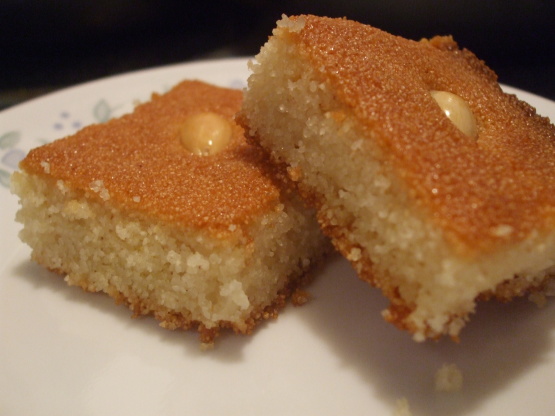 I was looking for a varition of our families Harissa recipe but was suprised that Zarr did'nt have anything close to what we love to make every Ramadan and special occasion. Us Palestinians love sweets. So here it is and enjoy!

I grease the pan with tahina and i add the mazaher or orange blossom water to the atter(syrup) after it is cooled off. Also, the syrup should be made thiner and room temperature and added 10 minutes after the harisa being taken out from the oven. This is also called namoura or basboosa! I Oh, i rememberd too, that i wipe the surface with yogurt and then cut it with sharp knife into very small diamonds. I blanch the almonds, peel them and toast them a little before i cover each diamond with the almonds and bake it.I also used clarified butter instead of regular unsweetend butter. It was delicious!
Mix the semolina, the sugar and the butter in a large bowl. Use your hands to corporate the butter with the other ingredients until mixed well.
Mix the yogurt and the baking soda in a separate bowl.
Wait a few minutes until the yogurt doubles in size.
When the yogurt has doubled (or almost)pour the yogurt mix on top of the semolina mix.
Use your hands again to mix.
After you combined the two mixes, press the mix down on a small jellyroll pan or a 9x13 pyrex baking dish.
(The cake mix should not be more then 1 inch thick. If it is bake the cake in a bigger pan or take out the extra and bake it in a separte pan.).
Cut a diamond or square design in the cake witha butter knife.
If using almond place one in each piece.
Bake at 400 degrees for 30min to 45 mins until its a bronze brown color.
Pour cold syrup on top while its hot so it can absorb all through.
If using ground pistashios sprinkle a little on top of each square.
FOR THE SYRUP:.
Mix all the ingredients for the syrup and place in saucepan on high until it boils. If using citric acid use only the the tip of a teaspoon.
Then reduce the heat to medium for 45 min to 1 hour until it coats a metal spoon.