Harissa and Yoghurt Baked Chicken
mianbao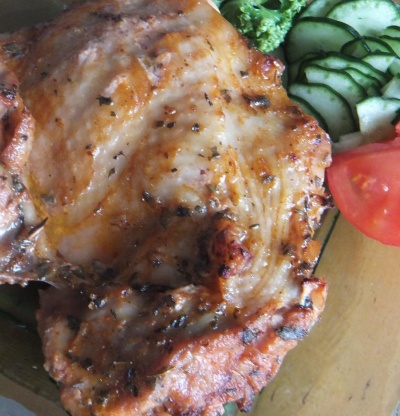 This is great hot or cold. Good for picnics. You could also use chicken drumsticks instead of quartering a whole chicken or chilli paste if you can't get harissa. Great with a side salad and a squeeze of lemon. From Donna Hay.

This chicken is good. I did marinate it 24 hours. I also used dried mint. The flavor is nice, but still I feel there should be "something" that isn't there. This is probably more my own problem than that of the recipe. We are all different. Thank you for sharing this recipe with us.
Preheat oven to 200°C.
Make deep slits all over the chicken pieces.
Blend the cornflour, yoghurt, harissa, mint, cumin, pepper and salt.
Spread yoghurt mix over both sides of the chicken pieces.
Place the chicken on a rack over a baking dish.
Bake for 25-35 minutes or until cooked through and crisp and golden on the outside.
Serve warm or cold.