Harira - Chickpea and Lentil Soup
ImPat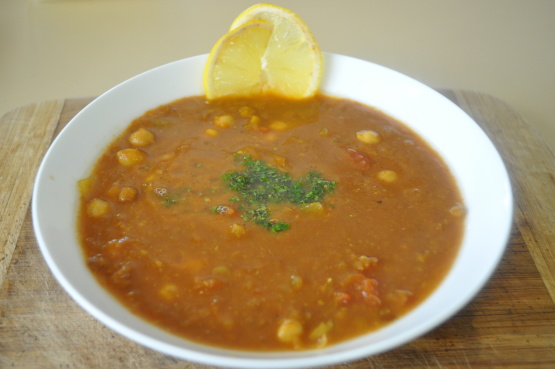 I am posting it here for safe keeping and will be making before long. It looks absolutely delicious. It is a traditional Ramadan Soup. UPDATE - I have now made the soup and love it; I made it with red lentils which worked fine.

I like this version. I threw in some carrots for DS and a few other veggies I had to use up. I didn't blend just because we like the broth in this dish. THank You Made for ZWT 7.
Chop 2 tbsp each of cilantro and parsley, set aside.
Tie together the remainder of the parsley and cilantro bunches and place in large sauce pan. Add chicken stock and bring to boil. Reduce heat to low, cover and simmer for 15 minute Discard herb bundle.
Add lentils, cover and simmer for 15 minute.
Add chickpeas, tomatoes, onions, cinnamon, cumin, ginger, tumeric, and pepper, cover and simmer for 30 minute.
Remove 3 cups of soup and blend with hand blender or food processor.
Return to pot and heat through. Stir in lemon juice, oil and reserved herbs.
Ladle soup into bowls and sprinkle with cinnamon and top of lemon slices and dates.