Haricots Verts With Warm Shallot Vinaigrette
Linky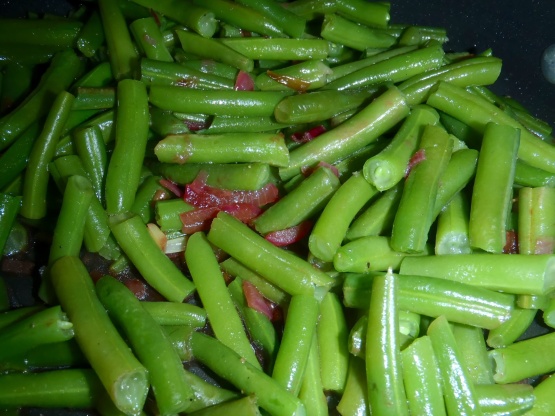 Haricots verts are green beans that are small, slender, and a vivid green. While haricots verts is french for "green beans" regular green beans can be substituted and the cooking time adjusted to increase by 5 minutes. This recipe was adapted from a popular cooking magazine and posted for the 2006 Zaar World Tour - FRANCE

Delicious! I made this with my garden green beans and also added in some chopped fresh garlic in the skillet with more olive oil, lots of black pepper and used seasoned salt, great flavor thanks for sharing Lori!
In a large saucepan of boiling water, place haricots verts and cook 3 minutes or until tender crisp. Drain and plunge beans into ice water, drain and set aside.
In a large non stick skillet over medium high heat add oil and shallots, saute 4 minutes or until golden brown. Add vinegar and stir, cook approximately 5 minutes or until mixture thickens. Place haricots verts to mixture, add salt and pepper and saute 2 minutes or until beans are heated through. Serve warm or at room temperature.