Haricots Verts With Shallots and Lemon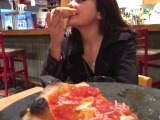 Sauteed pretty haricots verts combined with lemon and shallots are a great side dish any night of the week. We paired this dish with broiled veal chops topped with Stilton and Creamy and Simple Mashed Potatoes. Simply wonderful!
Directions
In a large skillet, heat the olive oil and sautee the shallots and green beans.
Season with salt and pepper.
Shake the pan occasionally so the beans do not burn.
When done to your taste, about 10 minutes for us, squeeze a couple TBS of lemon juice over the beans and toss with the zest.
Serve!
Reviews
Most Helpful
I used only about a tablespoon of olive oil and that was plenty. I then added some water to the pan and cooked until they were done. It was nice and simple. I sauted them on medium and then turned it down a bit when I added the water. Yum.

This was a lovely fresh side dish to accompany our Easter dinner. The lemon juice flavor was a nice surprise. I used the haricots buerre (butter/yellow beans) and they were so pretty, too.

Wonderful and fresh!! I really like vegetables with the freshness of lemon and these are great!!! I served these with Chicken Cordon Bleu and the French dinner was divine!!! Thanks for the recipe!!