Haricots Verts, Red Potato and Cucumber Salad
Brenda.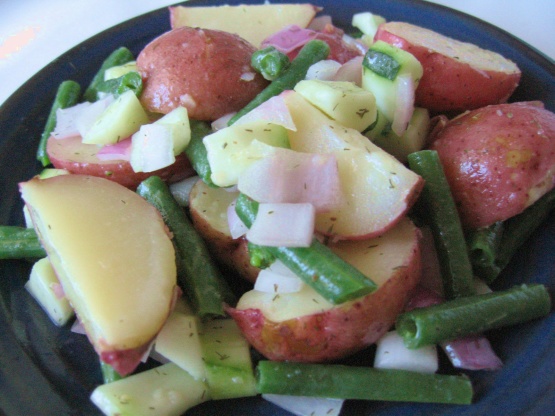 From the New Vegetarian Epicure, posted for ZWT III, France. According to author Anna Thomas, "the thin, tender French green beans are important to this - don't try to cheat with larger, tougher beans!" Cooking time includes cooling time as well.

Light and refreshing. The fresh dill is wonderful. Thank you!
scrub the potatoes clean and trim away any rough spots.
cut in half potatoes that are larger than a walnut.
Salt the potatoes lightly and steam them for about 15 minutes, or till tender. Let them cool.
Wash and trim the beans and steam them for 5-7 minutes, till tender crisp. Let them cool.
If you have slender, thin skinned cucumbers, wash them, trim the ends and slice the 1/8 inch thick. If you can only find the thicker skinned cucumbers, you will need to peel them, halve them lengthwise and scrape out the seeds before slicing.
Combine potatoes, green beans, sliced cucumbers, dill, red onion in a large bowl.
whisk together the olive oil, lemon juice, salt, sugar, dijon mustard and a dash of pepper.
pour the dressing over the vegetables and toss together gently but thoroughly.
try not to break up the potatoes.
allow the salad to rest in the refrigerator for an hour or so, then taste, and correct seasonings with more salt, pepper, lemon juice, etc, as needed.