Hardee's Cinnamon Raisin Biscuits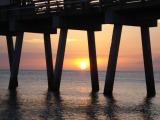 When I lived in the mid-west, I use to get these biscuits as a morning breakfast on occasion....well, on more occasions than I should have. I loved the warm tender biscuits with cinnamon swirlled in it and the sweet icing melting down. Having moved to California 12 years ago, I have really missed these as there are no Hardee's out here. I've found a copy cat recipe for it and I'm on cloud 9!! The person who posted this on another site said she use to work at Hardee's so this is the real-deal ! I can't wait to make these for my husband and kids!
Directions
Mix flour, baking powder, salt, baking soda and sugar.
Blend in shortening with a fork until mixture is fine.
Add milk and stir until just mixed. Add raisins and mix.
Add cinnamon and mix until swirled through batter. Do not mix batter any more than you have to.
Scrape batter onto well floured surface. Flour top and pat down with hands until 1/2-inch thick.
Cut with 2-inch cutter and place on greased baking pan.
Bake at 400°F for 10-15 minutes until golden brown.
Frost with powdered sugar glaze icing.