Hard Chocolate Sauce - Dairy Queen Style
V.A.718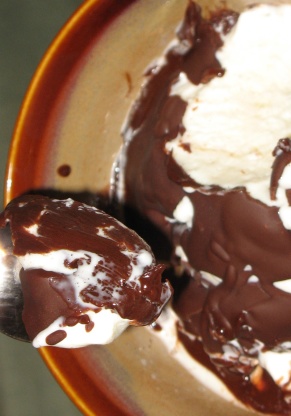 This is a nice "shell" sauce that is easy to make and hardens when put on ice cream.

I worked at a Dariy Queen for over 12 years. If you want to make the Butterscotch Dip just use Butterscotch chips instead of Chocolate. And for the Cherry Dip .. use white chocolate chips, cherry flavoring, and a few drops of red coloring. I have been making this at home for years. I let the kids help make ice cream bars on a stick (DILLY BARS) , freeze them for a few hours. THen let the kids dip them. ALWAYS a huge hit at summer birthday parties.Thank You. so Yummy!
6

ounces semi-sweet chocolate chips
1⁄4 cup oil (I use canola)
Melt all ingredients together till smooth and blended. This can be done over low heat in a saucepan, in the microwave or double boiler.
Spoon over ice cream.
Leftovers may be refrigerated and re-warmed as needed.