AZPARZYCH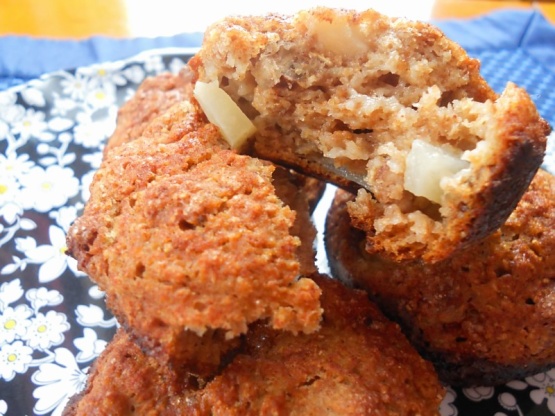 This gorgeous recipe for moist and flavorful yet also healthy muffins comes from " The Wild Wild West" cookbook, which I got of my wonderful swap partner and friend Tammie in the 2009 Cookbook Swap. I luv how easy and quick it comes together and how tasty the muffins are while still being good for you.
These are really tastey and will be made frequently because both DSs LOVE these!! I was able to get a small box of oat bran (just in case we wouldn't use it all) and so I can make a few more batches. I put too much cooking spray in the muffin cups bacause I was afraid of sticking, so the spray burned a little on the outside. I added the pecans, used vanilla yogurt and cinnamon applesauce. I don't feel so bad for letting DS's eat these for lunch since they are so healthy!! Made for AUS/NZ Recipe Swap #48.
Coat muffin pan with non-stick cooking spray or line with paper cups (muffins will stick to them though).
Combine first 8 ingredients in a large bowl.
In a second bowl combine oil mixed with 1 tbs applesauce, 1 cup applesauce, yoghurt, egg and honey/agave nectar. Add to dry ingredients and stir only until just moistened.
Fold in apples and pecans if using. Pour into prepared muffin tins, sprinkle lightly with cinnamon sugar if using.
and bake in the pre-heated oven at 400°F for 20-25 minutes.