Happy Orange Maple Chicken
Debbwl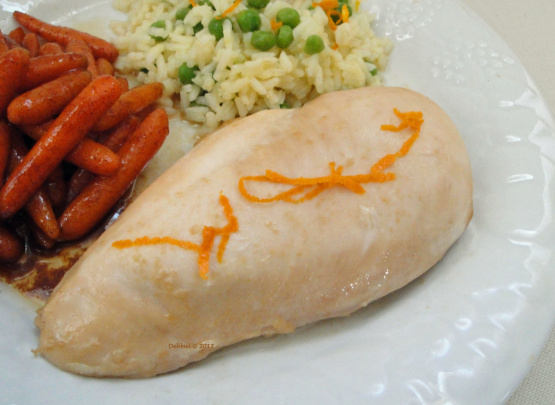 I decided to make a sweet chicken dish. I had just made a wonderful "Boozy Maple" chicken recipe that I got from a fellow 'Zaar-ite...( Thank you Mirj!!) and I wanted to tweak it some. So I decided to use maple syrup and orange juice (in place of the booze in the other recipe). It worked out just fine!I had time to let them marinate for an hour before cooking, but I believe it would be fine just baking it without the marinating time. You could also use any other chicken or turkey that you like.

Here is another tweak to this recipe! Place the breasts or thighs in a zip lock bag in the morning with the orange juice and maple syrup. Shake a few times and leave in the frig all day. Drain the chicken, save the marinate. Cover the chicken with panko crumbs by rolling in a crumb filled pan, bake as stated. Slice 2 sweet potatoes or yams with skin on and place in the reserved marinate. Place in a greased baking pan so the vegies are laid in one layer with the marinate. Dot with butter and cover and bake the same time as the chicken.
preheat oven to 400 degrees F.
rinse chicken breasts and pat dry.
mix together 1/2 cup fresh orange juice and 1/2 cup real maple syrup.
if you have time, put the chicken in a plastic ziploc bag, pour in the mixture and let sit for an hour.
put the chicken in a pan, pour the juice / syrup mixture over the chicken.
cover and bake for about 35 minute.
uncover and bake for another 5- 10 min or until done.