COOKGIRl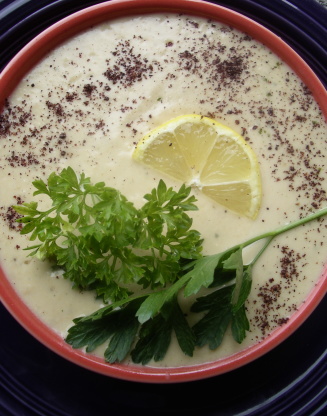 I like creamy hummus, no chalky hummus for this girl! This is a slightly modified recipe from my favorite vegetarian book 1,000 Vegetarian Recipes. For enhanced flavor, use homemade tahini (see Tahini Made Easy). The hummus must be prepared several hours in advance for best flavor. Do not substitute dried parsley for fresh.

A+! I used jarred tahini (lazy me), regular parsley and omitted the sumak (preference) and upped the fresh lemon juice a bit...we have a tree now! Also used about 5 cloves of roasted garlic which, of course, is milder than fresh. Oh, and I pooled the olive oil with a dash of paprika in the center. The only additional thing I might do next time is up the cumin because we LOVE it. Thank you, Cookgirl!
Place all the ingredients except for reserved bean liquid into a food processor or blender. While appliance is running begin gradually pouring some of the bean liquid down the feeding tube. (Do not use water to thin the hummus.) Process until smooth and creamy. If the appliance is laboring you need to add more liquid.
Scrape down sides of appliance. Taste test hummus and add more salt, lemon, etc if necessary. Hummus should be not too garlicky, not too lemony, not too pasty from the sesame seeds- a happy medium.
Transfer prepared hummus to a serving bowl and garnish with a drizzle of olive oil around the inner edges of the bowl and a sprinkle of sumac. Lastly, garnish with a sprig of fresh parsley.
Serve with chips, cut up vegetables, baked pita triangles, etc.