NELady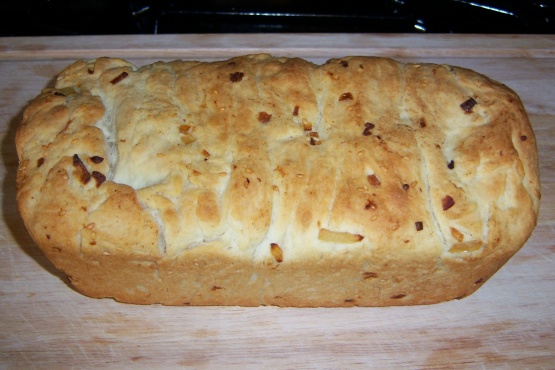 I know there are recipes for onion bread on the site already, but I can't find anything without a bread machine. This is the best onion bread I've ever tasted -- I don't know how I managed to do it. LOL The base recipe is "Grandma VanDoren's White Bread," taken from another site, and is my default recipe. For just the base bread recipe, eliminate the onion mixture and follow the rest of the recipe.

I have been meaning to review this for a long time,during which I have made it several times and played around with it quite a bit.It is wonderful as written but I have been baking it in four 8 inch cake pans,adding sundried tomatoes,olives etc. to the onion mixture and then slicing it for party sandwiches.Serve in wedges and it looks beautiful.I also made some this way with cinnamon and raisins and prepared it with chicken salad.
In a large bowl, combine warm water, yeast, salt, oil, sugar, and half the flour. Mix thoroughly, and let sponge rise until doubled in size, approximately 35 minutes.
While the dough is rising, place thinly sliced or finely chopped onion in a sauté pan with sesame seeds, garlic, and butter. Sauté until caramelized (light brown). Remove from heat and let cool.
Gradually add the rest of the flour, kneading JUST until smooth. I usually knead gently with my fingertips to work the flour inches When the dough has absorbed all the flour and is beginning to get tacky, I stop kneading. (One thing I discovered was to use ONLY the amount of flour listed, even as the dusting powder for the kneading surface. So 8 cups TOTAL and no more, or the bread comes out very heavy.)
Place dough in a greased bowl, and turn several times to coat. Allow to rise until doubled, approximately 35 minutes.
Punch down the dough. Divide dough into three equal parts. Pour onion mixture onto the dough and fold over on itself JUST enough to distribute the onion mix throughout the dough.
Shape into loaves (they will be a little ugly here, not smoothed on top), and place in three 8 1/2 x 4 1/2 inch greased bread pans. Let rise until almost doubled, approximately 35 minutes.
Bake at 350°F (175°C) for 30-40 minutes (mine are done in 30 no problem). The loaves may need to be covered for the last few minutes with foil to prevent excess browning.