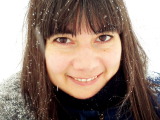 An all-in-one brunch bread; perfect for a summer brunch with a light fruit salad. The original recipe calls for 1/4 tsp. salt, but I omit it because often the bacon or ham add enough. We serve these with Cheez Whiz.
Directions
In a mixing bowl, beat eggs until frothy, about one minute. Add milk and mustard.
Combine the flour, baking powder and salt (if using) and add to egg mixture. Beat until smooth.
Stir in bacon, ham and cheeses.
Transfer to a greased and floured 9x5x3" loaf pan and bake uncovered at 350F for 55-60 minutes or until golden brown and a toothpick inserted near the center comes out clean.
Cool for 10-15 minutes and run a knife around edge of pan to remove.
Slice and serve warm. Refrigerate leftovers.
Reviews
Most Helpful
This is the most unusual but the best bread I have had in a long time.This will be a staple in my kitchen. I did not use the bacon as I didn't have any so added a bit more ham. Also used chedder cheese and colby cheese as that is what I had on hand. I am sure that whatever cheese you use it would be wonderful. This sure hit the spot and a cold and windy day. Great use of left over ham. This loaf of bread can't be beat.
I made this and was really lookin forward to a new breakfast item to make but I was a little disappointed. It was ok, but it just seemed like the flavor was a little bland. Next time I think I will add more bacon and maybe some spices. The directions call for adding salt but there was no salt listed in the ingredients.