Bergy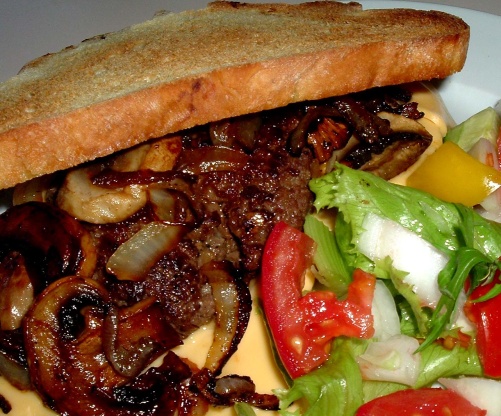 This is another adoptee. I made this recipe 03/01/05 and found that it did not need any serious changes, it's really good as is. Hope you enjoy it as well.

Top Review by Bergy
Made your burger again, this time I served it on crispy toasted sourdough bread with a salad along side, enjoyed as much as the first time.15 June 0 Nice subtle flavor from the lemon & worcestershire sauce. I Loved it. I scaled the recipe back to one pattie, used 1 clove garlic,4 large muchrooms, 1/2 medium onion,1/2 tsp worcestershire sauce and 1/4 tsp lemon. It was just right for my taste Thanks — Sep 16, 2001,
Melt the margarine in a large skillet.
Add the Worcestershire sauce, lemon juice, garlic, onion, and mushrooms.
Cook and stir over medium heat for 2 minutes.
Remove from the heat.
Mix the meat, salt and pepper together.
Shape the mixture into 4 patties, each about 3/4-inch thick.
Push mushroom-onion mixture to the side of the skillet.
Cook the patties in the same skillet over medium-high heat, turning once, to the desired doneness, about 10 minutes.
Serve with the mushroom-onion mixture spooned over the patties.