Hamburger Strudel (Dutch)
alligirl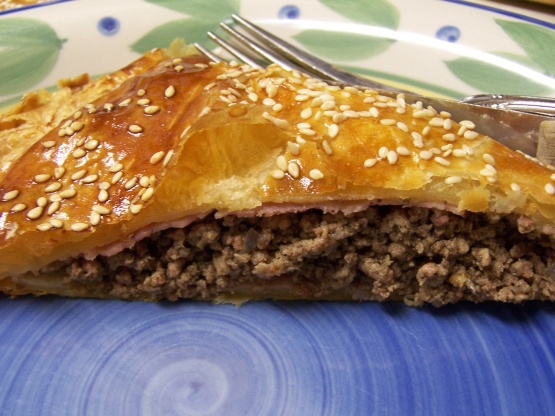 Posted for ZWT6. Adapted from godutch.com Servings and prep time are an estimate.

I left my puff pastry out at room temp too long and it was warm in the kitchen. The puff pastry layers were stuck to themselves and I ended up just rolling the whole thing out to one big sheet. Very tasty dish, and I loved the addition of ham... I mean really, what can't be improved with ham? Made for ZWT6.
Preheat oven to 395°F.
Thaw the puff pastry sheets.
Peel and finely chop the onion. Mix the onion with the nutmeg, cinnamon and paprika, and brown the onion in a skillet until carmelized.
Add ground beef and cook until browned. Add salt and pepper to taste.
Separate the egg and slightly beat the yolk and eggwhite separately. Roll the pastry sheets and make two sheets out of the four by overlapping and sealing the two seams. Brush the two sheets with the eggwhite.
Put two slices of ham on the one set of pastry sheets and spread the hamburger mix on top. Keep the edges free. Put the other two slices of ham on top of the hamburger and cover with the other pastry sheet.
Join the edges well of the two sheets and set aside for 10 minutes.
Put a sheet of baking paper on a cookie sheet and place strudel on baking sheet.
Brush egg yolk on top of the strudel and sprinkle sesame seeds on it. Bake the strudel for about 30 minutes, until golden brown and done.