lets.eat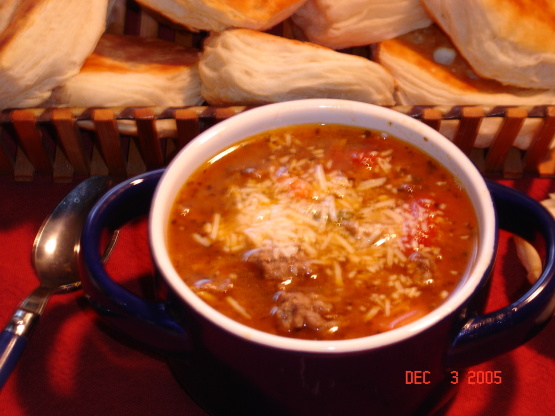 So good! It's a long time favorite. A must when the weather turns cold. We serve this with a big slice of pumpernickle bread.

II feel bad I can't rate this a 5, but had a problem with the soup. Even though I didn't use the boullion I had to doctor it up because we thought it was too salty. I added 2 diced potatoes to absorb some of the salt and some more canned tomatoes. I also used 3 carrots instead of the 1C, just because we like them. After that, I thought the soup was good so almost didn't make the roux. I'm so glad I did. The soup was so much richer, plus it cut down on the saltiness a bit. I will definitely make this again as written, adding extra carrots and a diced potato, but will use low-sodium beef broth next time. Because the addition of Italian seasoning, worcestershire sauce and hot pepper sauce plus the roux this made this a step above other hamburger soups I've made..
In lg soup pot, brown beef; add next 4 ingredients.
Cook and stir 2 minutes.
Add broth, boullion cubes, and tomatoes.
Cook and stir 2 minutes.
Add italian seasoning, worcestershire sauce, and hot pepper sauce.
Bring to a boil; reduce heat and simmer for 15 minutes.
In small sauce pan, heat butter, add flour.
Cook and stir on med until mixture is beginning to brown.
Carefully mix into soup.
Cover and simmer for another 15 minutes, stirring occasionally.