Hamburger " Steaks" With Onion Gravy
Derf2440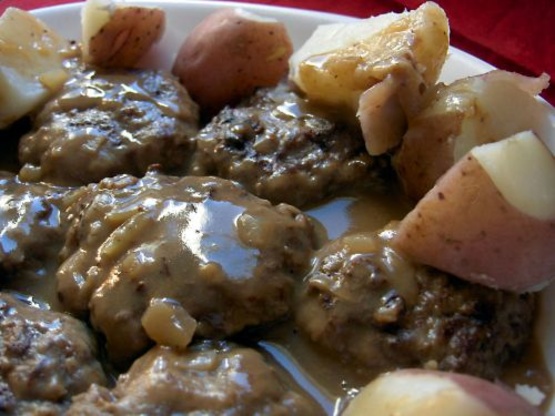 Came up with this after trying to figure out what to do with some ground beef that needed to be cooked. I paired this with orzo, but would be equally good with mashed potatoes.

This had a great flavor to it. I only used one packet of onion soup mix and had added it to the gravy. I did add 1/2 teaspoon of onion powder to the burger mixture. I followed the rest of the recipe as written but next time I would cut back on the pepper by half as I thought it was a bit overpowering.
In a large bowl mix together beef, egg, bread crumbs, 1 package soup mix, and Worcestershire sauce. Form into 8 balls and flatten into patties.
Mix flour salt and pepper.
Dredge patties in flour mixture.
Heat large skillet over med-high heat. Fry the patties 4 minutes each side, then remove patties to a platter.
Heat oil and sauté onions until translucent, about 10 minutes.
Add the rest of the flour mixture to onions and stir to coat.
Mix broth and last package of onion soup and add to the onions. Stir well.
Return the patties to the pan, cover and reduce heat to low.
Simmer 15-20 minutes until beef is cooked through. Stir occasionally to make sure gravy is not sticking to bottom of the pan or clumping.