Hamburger Pie With Onion Biscuit Topper
NELady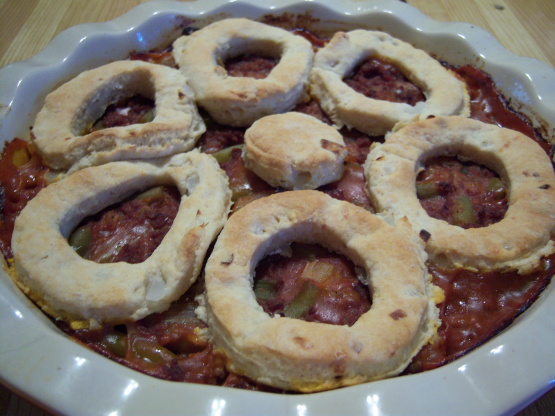 From Better Homes & Gardens Best Buffets Cookbook, Meredith Press, 1963, pg. 26. My husband brought home a couple of bags of cookbooks from the library book sale... I made this one and thought it was pretty tasty! Very similar to the hamburger, green bean, tomato soup with mashed potatoes recipes.

Top Review by Deb G
This is a good comfort food type basic casserole. The Onion Biscuit Topper is definitely what sets it apart from others. It was quite easy to do and a very satisfying meal. I think the addition of some other seasonings in the hamburger pie portion would really step this up to 5 stars. Made for New Kids on the Block.
For Hamburger Pie: Cook onion in small amount of hot fat till tender but not brown. Add meat and seasonings; brown lightly. Add drained beans and soup; pour into a greased 1 1/2-quart casserole. Place in 350* oven while you prepare the onion biscuit topper.
Onion Biscuit Topper: Cook onion in hot fat till tender, but not brown. Sift together flour, baking powder, and salt; stir in celery seed. Cut in shortening until mixture resembles coarse crumbs. Stir in cooked onion.
Combine egg and milk; add all at once and stir till dough follows fork around bowl. Turn out on lightly floured surface and knead gently 1/2 minute. Roll 1/2 inch thick and cut with doughnut cutter. Place circles of "doughnuts" on BOILING HOT meat-vegetable mixture; center with a few doughnut "holes"; bake in very hot oven (450*) 10 to 15 minutes or till biscuits are done. (Bake remaining biscuits on an ungreased baking sheet).