Prep 15 mins
Cook 20 mins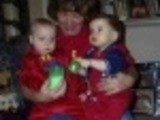 This wonderful recipe came from a friend who was a great cook. We have a hard time leaving any for left overs. Someone will always eat the last piece.
Directions
Brown meat with onion and green pepper.
Drain.
Add tomato sauce, beans, and seasonings and let simmer.
Press dinner rolls into a pie plate forming a pie crust.
Take 1 cup cheese and mix with egg.
Pour over bottom of the pie crust.
Drain excess juice from meat mixture.
Pour meat mixture into pie plate.
Spread with remaining cheese.
Sprinkle with paparika.
Bake at 350 degrees for 20 minutes.
Most Helpful
it tasted just ok.
Very, very good. I used cheddar cheese and a narrow casserole dish instead of pie plate. Cooking time had to be increased by 5-7 minutes as a result.

This is a great easy meal to make when you don't have much time. I followed the recipe exactly and find that it was a bit salty for our taste. I will just half the salt next time. Thanks for a great recipe Trisha W.