Hamburger Noodle Bake for Two
teresas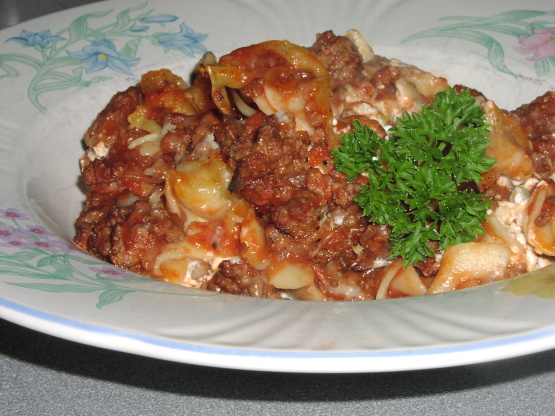 Another recipe posting for safe keeping that I found in TOH magazine. This is a very economical and filling dish. Can also make it lighter by subbing light cream cheese, sour cream and cottage cheese.

Mmmmmm, what a yummy dinner here at the homestead. It was a pure comfort evening for us and we enjoyed this while watching Pirates of the Caribbean :D. The recipe is simple, hearty and the servings are quite generous. I really don't think I would change anything.
Cook noodles according to package directions.
Meanwhile, in a large skillet, cook beef and onion until meat is no longer pink; drain. Remove from the heat; stir in the tomato sauce, sugar, salt, garlic salt and pepper. In a small bowl, combine the cottage cheese, cream cheese, green onion, green pepper and sour cream.
Drain noodles; place half of noodles in a greased 1-qt. baking dish. Spoon half of beef mixture over the top. Layer with cottage cheese mixture and remaining noodles. Top with remaining beef mixture; sprinkle with Parmesan cheese.
Cover and bake at 350° for 20-25 minutes or until heated through.