Hamburger Lentil Potato Tomato Stew
rya1842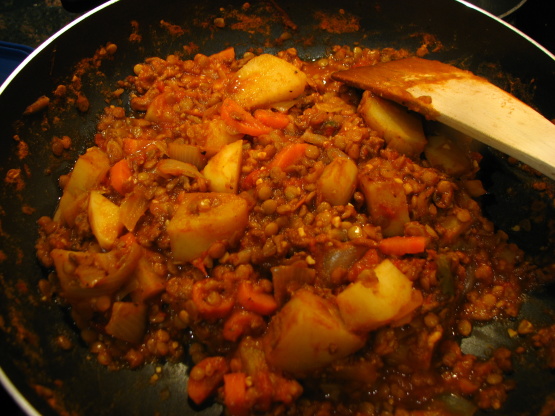 Like most stews, this dish is a little on the homely-looking side, but very tasty, filling, and easy to pull together. The ingredient amounts listed are the ones I use, but as long as there's an appropriate amount of liquid, everything's flexible, go crazy. The listed recipe makes roughly 4 cups of finished stew, which in my house is two dinner portions and one or two smaller lunch portions. Leave out the beef and substitute vegetable stock for a vegetarian dish.
Chop onions and carrots.
Brown beef, then add onions and garlic; saute for a few minutes.
Add carrots, tomato sauce, diced tomatoes, stock, dry lentils, paprika, curry powder, pepper, bay leaves.
Bring to a boil, then simmer on medium for 30 minutes.
Meanwhile, peel and dice potato into 1/2 inch chunks.
Add potatoes. Add water if necessary to prevent burning, but not so much it won't boil off. Aim for stew, not soup!
Simmer 45 minutes more or until liquid is absorbed and vegetables are tender.