Hamburger Helper Budget Stretch
GeeWhiz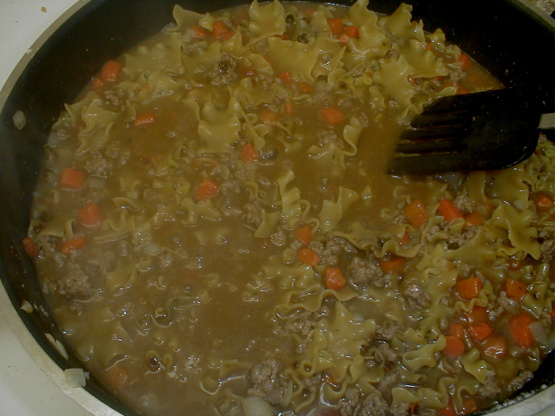 Is one box of Hamburger Helper not enough for your family? It's not enough for my family of boys so I created this easy 'stretch' in order to double the servings. My family likes the Salisbury flavor so that's what this recipe is based upon - but it'd go well with other flavors, too.

Very good recipe that makes Hamburger Helper stretch and taste homemade. I used Kluski egg noodles and omitted the sugar as I didnt want a sweet flavor added. Warmed this up for supper tonight and it was even better than the first night. Thank you 4Susan for posting this great recipe! Made and reviewed for My 3 Chefs.
Follow the cooking directions on the Hamburger Helper box, using the enclosed seasonings and noodles and adding my list of ingredients (except sour cream); be sure to use the amount of water I've listed and not the amount listed on the box; you can sauté the onions with the hamburger if you'd like.
Mix in sour cream just before serving.
*You could substitute any thin or small noodles you have in the pantry and use corn or other veggies in place of the carrots.
*We aren't salt lovers, if you are - double the salt.