lazyme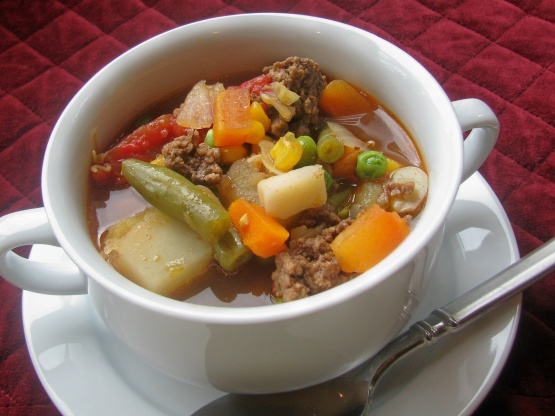 I like easy recipes and this recipe is very easy. It also very good!! Love it anytime but especially during the cold months.
Place ground beef and garlic into your big cooking pot while you are opening veggies, this will give it time to brown.
Place canned veggies into pot, do not drain. You need their liquid.
Cut up potatoes and unwrap bouillon cubes, add to the mix.
Add enough water to fill the pot. It usually is not a lot of water because of the canned vegetables.
Cook 3-4 hours.
Serve. Some like cheese over their soup.
Note: You can use frozen or fresh vegetables. I always double my recipe because it just does not seem to be enough, but we will eat it for leftovers. If you do not like some of these vegetables you add what you do like.