Redsie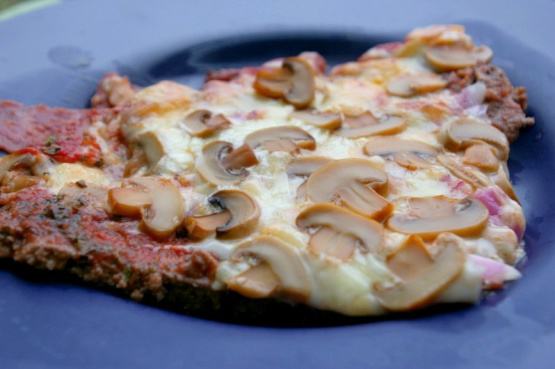 The "crust" of this pizza is actually hamburger rather than dough. Sure cuts down on the carbs!

This was GREAT! New ideas, you have got to love them. I didn't really follow the recipe I took this idea and changed it a little bit for myself. I used Ground Turkey instead of Ground Beef. I added Red Pepper Flakes to the Turkey and I pre-cooked it in the oven before i put any of my topping on. Over all I would have to say this is a great idea and I would very much make this recipe again with beef or Turkey.
Mix the beef and the garlic and press into a 12-inch pizza pan.
Mix the tomato sauce through the sugar and spread on top of the beef.
Layer the onion, salami, mozzarella cheese and mushrooms on the pizza in the order listed.
Sprinkle with oregano and parmesan.
Bake at 400� about 15 minutes or until the beef is cooked through.