Pellerin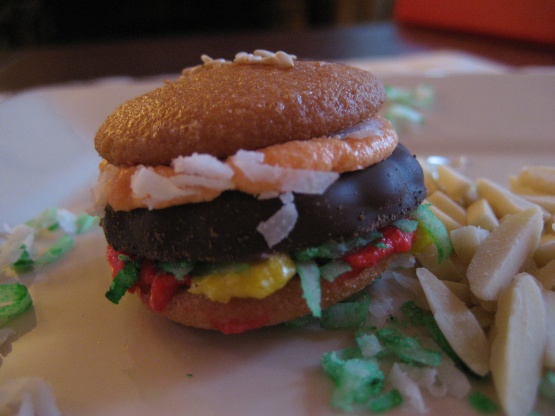 *Huge* hit at parties! These actually TASTE great (waay better than those made with canned frosting).

These look just like mini hamburgers! It was fun to make with my daughter,,,who took full credit on making lol. I did hear how it was a lil sweet so maybe next time I will add a ring around top layer of wafer instead of glob in middle than squish it down to ooze out,,maybe that will help? I did take chef kelci's idea with the honey instead of baking w/ egg wash. I was not sure how many cookies it had in the grasshopper cookies so was a lil nervous. It make exactly 40 cookies. I was called the "BAKER" tonight. Family very impressed and will def. make these again. Thnak you!!
COOKIES (use 1 recipe buttercream frosting)

340.19

g box vanilla wafers (Nabisco Nilla original size)

283.49

g package cookies (Keebler Fudge Shoppe Grasshopper, chocolate covered mint cookies)

236.59

ml sweetened flaked coconut

14.79

ml toasted sesame seeds

1

egg white, slightly beaten with water

GARNISH

59.14

ml slivered almonds (toasted)

FROSTING

118.29

ml butter (1 stick, softened)

4.92

ml vanilla extract

2.46

ml almond extract

591.47

ml powdered sugar

0.25

ml salt

29.58-44.37

ml half-and-half or 29.58-44.37 ml cream or 29.58-44.37 ml milk
food coloring (green, red*, yellow)
FROSTING: Combine butter, vanilla, sugar, salt, and half-and-half in an electric mixer.
Add enough milk to get to a fairly thin consistency for frosting.
Divide into 3 separate bowls; one holding ½ of the frosting, the other two containing ~1/4 each.
Color ½ of the frosting orange to simulate cheese, using red and yellow food coloring. (Use real items to match colors).
Color ¼ of the frosting bright yellow to simulate mustard, and the last, red, to simulate ketchup. (Red will take a LOT of liquid food coloring to get past "pink." You can buy gel-based "super red"at any cake decorating supply store).
Place each batch of frosting into a plastic baggie.
Remove air, close, and snip a tiny bit off of one of the bottom corners.
COOKIES: Preheat oven to 325º. Toast sesame seeds lightly in a small sauté pan. Cool.
Brush ½ of the Nilla wafers tops with egg wash.
Place on baking sheet.
Sprinkle with the toasted sesame seeds.
Pop into the oven for ~5 minutes to gently cook the egg white, so that the cookies don't need to be refrigerated.
While these are cooking, with a rasp, lightly shave the curved tops of the remaining Nilla wafers, so that they can sit flat on a plate (optional, but makes life easier later).
Place ½ of the coconut into a plastic zip-lock bag.
Add several drops of green food coloring and squish the bag around until the coconut resembles lettuce.
Place the shaved Nilla wafer "bun bottom" with the natural flat side up.
Dab 4 drops of frosting "ketchup" around the edge. Dab 4 drops of frosting "mustard" in the remaining spaces on the edge.
Sprinkle green "lettuce" coconut.
Place the mint cookie "hamburger patty" on top and gently press down slightly.
Squeeze a GOOD dollop of orange "cheese" frosting on top of the cookie.
Sprinkle remaining white "onion" coconut on top.
Place the sesame-coated "top bun" Nilla wafer on top, and gently press down.
Serve with toasted slivered almonds, resembling French fries!
*It takes a LOT of liquid red food coloring to get past "pink." Try using "super red" gel-based red pigment, found at any local cake decorating supply store.