Hamburger Buns Par Excellence
gailanng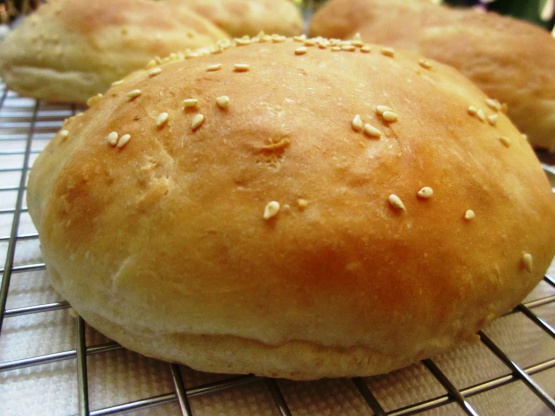 Very nice burger buns, not too tough to bite through, plenty of substance to withstand a hearty burger. You'll be wanting to tear down the oven door when they're almost through baking.
Heat the milk in a saucepan until tepid but not yet warm (check every 10 seconds).
Combine the milk, sugar and yeast.
Beat the egg.
Combine the flour, oil, egg and salt in a bowl.
Pour in the milk mixture, and stir with a spoon until the ball pulls away from the side of the bowl.
Turn the ball onto a floured surface and knead for 6 minutes.
Cover loosely and let rise for 60 minutes; the ball will just double.
Punch down, divide into four, and form into buns about 5-6" in diameter.
Preheat a baking stone in the oven at 375.
Cover and let rise for an hour; they won't rise that much but they will look puffy and glossy.
Transfer the buns to the baking stone.
Cook for 19-20 minutes. They will more than double in height and will be medium brown on the top.