Hamburger Barley Stew (Crock Pot)
jenne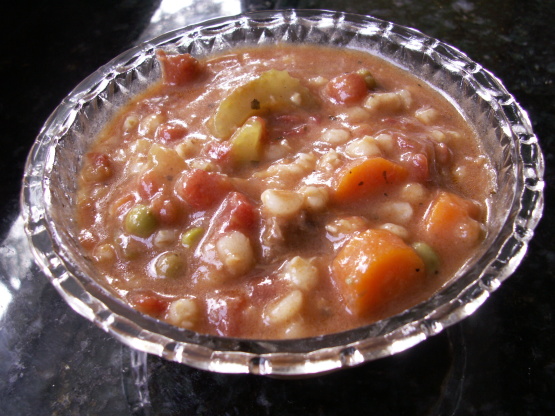 Easy to throw together for a cold, rainy day. Nice and filling when served with a crusty loaf of bread. ETA--often I make this with beef broth instead of the water and bouillon cubes, and I'll often add a can of canned corn as well.

I am not going to rate this being I made changes as I started the recipe as written - then thought as it cooked for more flavor to add 1 tsp of chipolte in adobe sauce and a tablespooon of tomato paste because I didn't like the color of the sauce, and did use ground turkey. My husband loved it and called it "hardy". I thought it was OK. Made a half recipe and yes makes at least 4 to 5 servings. Always better warmed as a leftover and looking foward to it. Made #26110 biscuits to serve with. Easy and good!
Dissolve the bouillon in the water.
Combine all ingredients in the slow cooker.
Cover and cook on low for 9-10 hours or high for 4.5-5 hours.