Hamburger and Three Bean Casserole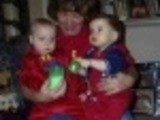 This one is great for pot-luck dinners or anytime you need to feed a large group as it serves about 24.
Directions
Brown bacon, hamburger and onions, and drain off excess fat.
Combine tomato sauce, brown sugar, dry mustard and garlic flakes; add to meat mixture and mix well.
Place in a buttered 6 quart baking container, and bake 1 hour at 350*F.
Most Helpful
I added 1 pound of mild sausage and 2 cans of Rotel, Plus 1 more pork and beans. Oh I used green Lima beans for some color. Took to to a Memorial Day party and everyone was saying how great it is! Thanks for the recipe
I wasn't as impressed with this recipe as the other two reviews were- this didn't seem to be so much a casserole as it was a thick, sweet-tasting chili. We had to serve it in bowls with spoons. The kids (seven of them) ate it all, though, so I won't say it was bad, I just don't think it is a keeper.

Made this tonight for my family of three. Lots of leftovers but that is ok because we loved it! Will use it as a sidedish tomorrow. This would never serve 24 the way it tastes, just loved it! Thanks Trisha W