Hamburger and Tater Tot Casserole
AmyMCGS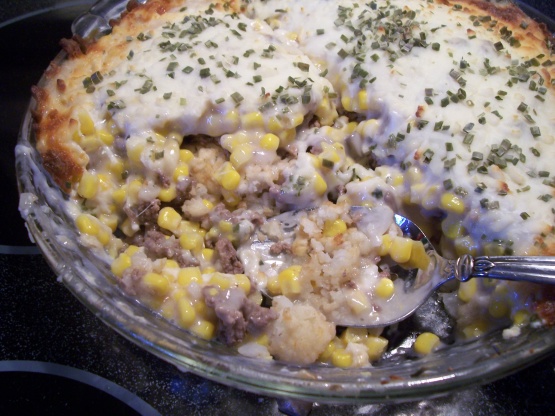 This is an great dinner for those nights you need something quick. Make ahead in the morning and put in the oven when you get home! Measurements are approx. because I usually just eyeball it!

Good & easy... I usually make a version of Tater Tot Casserole with cheddar cheese and green beans, and I think my family prefers that one, but this was nice for a change. I subbed cream of mushroom soup and canned corn, rather than frozen. I also added some chopped chives to the top for color (see photo). Thanks for sharing!
Brown ground beef. When almost done, add the onion and continue to saute until the onions are clear. Drain and set aside. I also season the beef with a little Ms. Dash or something without salt, since the soup will add enough salt taste.
In a casserole dish, (I usually use a pyrex that is 11x7) spray the bottom with no stick spray, then cover the bottom with the tater tots. You can see how it's hard to measure, but you can adjust accordingly for your dish.
Pour ground beef and onion over tater tots.
On top of beef, sprinkle frozen corn. (as much or as little as you like).
Put cream of celery soup in a cup and ad enough milk to make it creamy. Pour this mixture over the corn.
On the very top, cover with mozerella cheese.
Bake at 350 for about 30 min, or until bubbly. It may take longer if it has been refrigerated.