Hamburger and Potato Casserole
MomB4202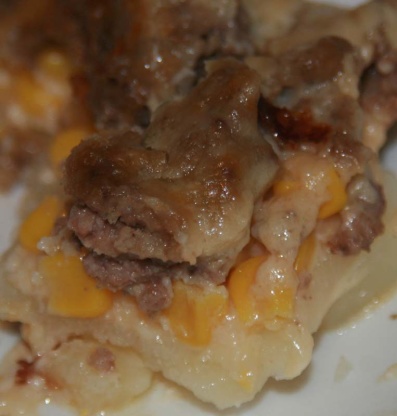 This was an experimental recipe derived from Shepards Pie which turned out to be really delicious but it's also very rich so watch out.

I tried this recipe it was very easy to put together. Its one of those recipes were you should have the ingredents on hand.
The family gave it a thumbs up. We will make it again
Preheat oven to 350 degrees.
Brown Ground Chuck and drain.
Add salt and set aside.
Thinly slice Baked Potatoes and spread in a 9x11 inch shallow baking pan (prefferably glass).
Melt butter and Garlic Salt in a frying pan and add the Mushrooms.
Saute Mushrooms for 5 minutes or until they're tender.
In a small mixing bowl, mix Mushrooms, Sour Cream and Milk together and spread on top of Potatoes.
Open and drain Canned Corn and sprinkle on top of Sour Cream mixture.
Sprinkle Mozzarella Cheese on top of Corn.
Sprinkle Groud Chuck on top of Mozzarella.
Finish by sprinkling the Colby Cheese on top of Ground Chuck.
Bake at 350 for 30 minutes or until cheese is brown on top.
Variations: Omit the sauteed Mushrooms and substitute Mashed Potatoes for Baked Potatoes.