Hamburger and Kidney Beans
Soup Fly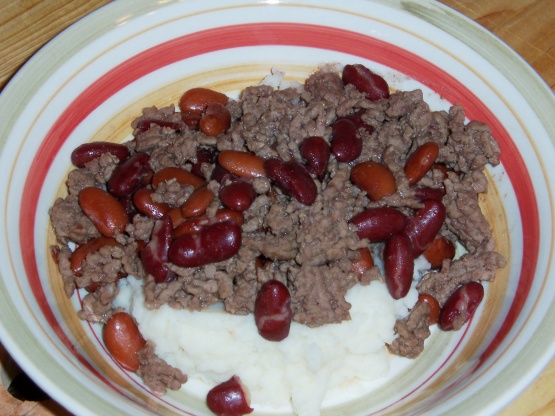 Another simple (and fast) yet tastey recipe from my husband's childhood. When I asked Curt the name of this particular recipe, he said, "Hamburger and Kidney Beans". When I asked again, he gave me the same answer. I wanted it to have some really cool name that I could use here on the site, but this is it: Hamburger and Kidney Beans. His mom would cook this and would just serve it plain. It was Curt that added the Mashed Potatoes later. I omitted the recipe for instant mashed potatoes, assuming that you all know how to make them to your own likeing. Of course you can always use real mashed potatoes, but in a time crunch you can use instant, or this would be great for left over mashed as well. You can adjust this recipe easily to fit your family size.

My dad used to make this for me when I was little except he added onion to the hamburger and he served it up with super buttery mashed potatoes. I make it now for my family. I still love it as much as an adult as I did as a kid!
Brown and drain ground beef.
Add Kidney Beans (I always drain one can and use juice from other can) to beef and stir.
Season to taste.
Serve over Mashed Potatoes.