J-Lynn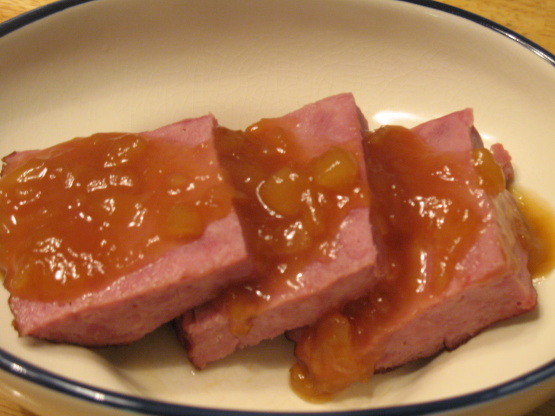 I make this when my very large family all get together. Always a favorite with them.

I tweaked it a little, but overall, great recipe. I used a full 20 oz can of crushed pineapple, cut the brown sugar to 1/2 cup, and omitted the cornstarch/water mixture, since it didn't seem necessary. The sauce was still very sweet, and I feel like it would have been way too sweet with a full cup of brown sugar. Just our personal preference though. I might use more prepared mustard next time, just to diversify the flavor a little. Thanks for posting!
Place ham on a rack in a shallow roasting pan.
Bake at 325°F for 1 1/4 to 2 hours or until a meat thermometer reads 140°F and ham is heated through.
Meanwhile, in a saucepan, combine 1/4 cup water, brown sugar, soy sauce, ketchup, mustard, and pineapple.
Bring to a boil; reduce heat, cover and simmer for 10 minutes.
Combine cornstarch and remaining water until smooth; stir into pineapple sauce.
Bring to a boil; cook and stir for 2 minutes or until thickened.
Serve with the ham.