Ham With Pineapple-Orange Dijon Glaze
Derf2440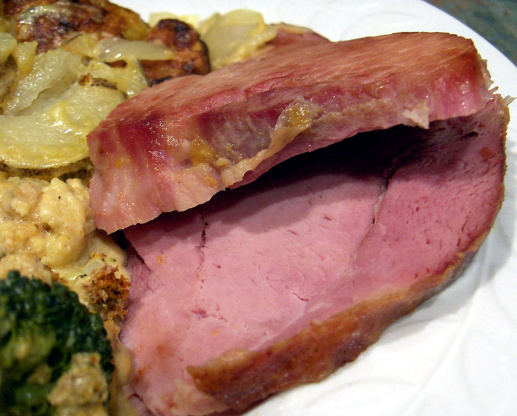 Over 100 five star reviews convinced me to try this ham recipe I found on the 'net. We had it last night, and it is a keeper!

I haven't tried this exact recipe, but I'm rating anyway because this is almost exactly what I do to my ham every christmas and the taste is phenomenal! What I usually do is score the ham and stud it with whole cloves rather than add ground cloves to the glaze. I really like the way it looks. I've never added mustard or orange zest, but I know that will just put it over the top!! Thanks so much for posting this. Something that I do is score the ham and prepare the glaze a day ahead of time. I let the ham marinate with the glaze and whole cloves on it for an entire day...you wouldn't believe how good it comes out! Before I bake it, I add pineapple rings on the outside with toothpicks. I cover it with aluminum foil and baste it often. It takes a little longer to cook, but it's so worth it!
Place ham in a roasting pan, bake at 325°F for two hours.
Meanwhile, stir remaining ingredients together in a saucepan.
Bring to a boil, lower heat and simmer 10 minutes.
When ham has baked two hours, brush the ham with the glaze, continue doing so every 10 minutes while baking for another 30 minutes.