KateL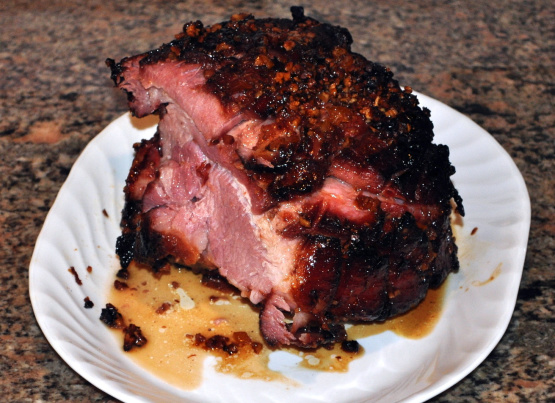 This can be made in advance ! If you cannot get the right marmalade then just try lime alone and increase the glace ginger or add some powdered ginger to your own taste.

Top Review by KateL
SUPERIIOR! Have a good meat thermometer and try this, it is worth any sacrifice. OMG, this has me begging Wegmans for lime-ginger marmalade; I used half lime marmalade and half ginger marmalade. You could tell as soon as the marmalade began heating that something special was afoot., THIS WAS GOING TO BE GREAT . Try this for a super holiday meal. To speed up the heating, I turned on the convection fan and turned the ham over halfway, then monitored the internal temperature. Thank you for sharing, Kate! Made for The Wild Bunch of ZWT8 for its trip to Australia/New Zealand.
Remove rind from ham.
Preheat oven to 180 C.
Use a sharp knife to score diamond pattern in the rind around shank.
Place ham in deep baking dish.
Spread marmalade over surface.
Combine sugar, nutmeg, pecans and ginger.
Spread this mixture over marmalade pressing it down by hand.
Bake 45 minutes till golden brown.