Ham, Tomato, and Mozzarella Breakfast Treats
CandyTX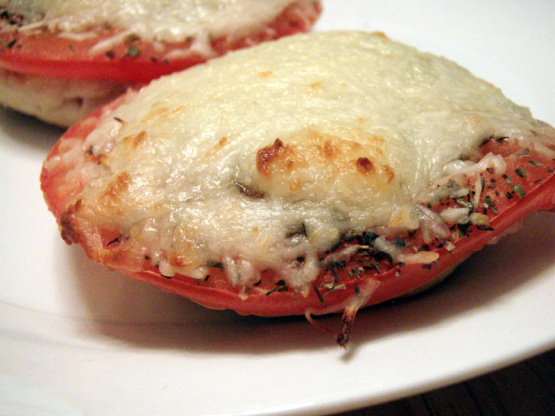 I throw these together on busy mornings, and usually use thin-sliced Virginia ham. When I have more time, I serve with eggs over easy or scrambled. They're very quick to fix and addicting!

I tried this today - as a light lunch. Or brunch.
I used one whole tomato, sliced thickly, half on one and the other half on the other - but I used Cheesy muffins, from the supermarket (Cheesy from Tesco, Cheese N' Onion from Morrisons - yum!)
and I used Melton Ale N Mustard Ham - whooohooo!
Dashed next door to buy Mozzarella, popped the two halves layered in order: Ham, Tom, Mozzarella - under the grill (a broiler is a grill in the UK - and the first time I've used the one in this new flat) 5 mins to heat the grill, 3-5 to brown the cheese. Seconds to eat.
Only.... I just used one tomato, and I have a whole box to find ideas for using tomatoes....

Mind you, I could do another one, it was lovely. 8)
Layer each English muffin half with ham, tomato, a dash of pepper (if you like), and cover with cheese.
Place under the broiler for about 3-5 minutes until cheese is melted and starting to crisp.