jonesies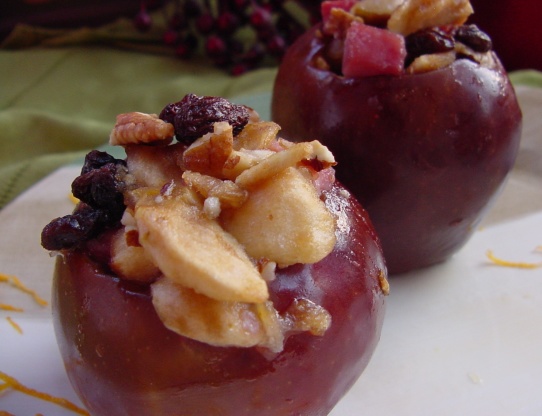 The apple takes the place of individual serving dishes when stuffed with a nice ham mixture. Great for a small dinner party. Taken from the "From Storebought to Homemade" cookbook.

I have been eating these for a long time. I eat them now when I can find "alright" apples in the marked down bin. I bring them home and prepare them all at once. I'll usually eat one at that time for lunch or dinner, and throw one in the refridge to eat the next day. The rest, I wrap tightly in plastic wrap, then aluninum foil, and freeze individually for whenever I am in the mood for one....they freeze really well, but wrap VERY tightly, and only after cooking and cooliing. If I'm out of ham, I'll just cook up a few bacon slices, crumble and put over the apples. I do these in the micro, which only takes about 3-4 mins on high. Delicious and nutritious! Granny Smith's are also great done this way.
Cut the tope off the apples and scoop out the core with some of the fruit, but be sure to leave a thick shell to hold the stuffing.
Preheat the oven to 350 degrees.
Put approximately 1 cup of the removed apple fruit in a mixing bowl and combine it with the ham, butter, raisins, pecans and brown sugar; mixing the ingredients well.
Spoon this mixture into the cored apples and place them in a baking dish.
Pour the juice over the apples and bake for 35 to 40 minutes, basting occasionally with the juice.