Kisha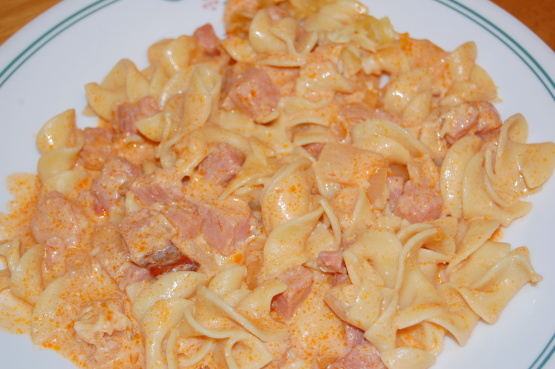 This sound great and I am planning on making this dish soon! I thought I would share this with all you here so you could try it too! Found recipe in an old textile and clothing workers union cook book I have.

Wonderful! The whole family enjoyed this dish, and it's a nice change from other leftover ham recipes. Even better than I thought it would be, and from very simple ingredients. I used 8 oz of fresh mushrooms sautéed with the onion and leftover ham from my freezer. I don't use canned broths due to MSG, but knowing that the 10 oz can is concentrated, I used 1 1/2 t of jarred organic beef broth base to make 10 oz. Will make again. Thanks for sharing the recipe!
Melt the 1/4 cup of margarine or butter and sauté onion, garlic and mushrooms until onion is tender (about 5 minutes).
Add ham and blend in flour, tomato sauce, Burgundy wine and beef bouillon; simmer for 10 minutes, stirring occasionally. Remove from heat and stir in sour cream.
In greased 2-quart casserole layer 1/3 of the noodles and top with 1/3 of the ham mixture.
Repeat twice more, ending with ham mixture on top.
Sprinkle with parmesan cheese and bake at 350°F for 30 minutes.