Ham Steak With Pear Topping
BarbryT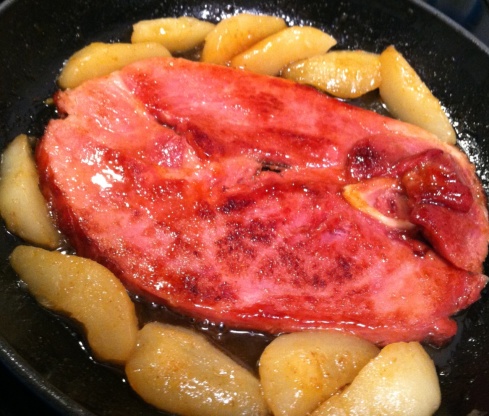 I got this from a Taste of Home cookbook. This is a quick, easy, tasty meal.

This is delicious! I recently moved and don't have cornstarch or ginger (cumin, dill, and every other spice but no ginger!). I decided to omit the cornstarch and instead I chopped (and mushed) up the pears to thicken the sauce. I also used cinnamon to give it a kick and omitted the mint. I couldn't believe it still turned out fabulous. Thank you!!
Drain pears, reserving the juice.
Set the pears& juice aside. In skillet, brown the ham steak on both sides in oil Remove & keep warm. Drain the skillet. Combine cornstarch, ginger and water until smooth. Stir in reserved pear juice. Add to the skillet. Bring to a boil. Reduce heat, simmer uncovered 1-2 minutes or until thickened. Add ham and reserved pears, heat through. Sprinkle with mint.