Annacia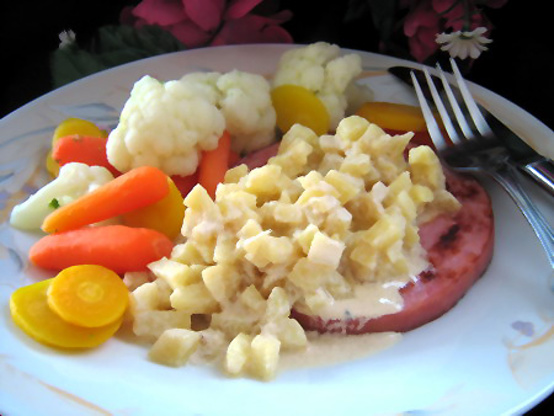 Quick and easy dinner for two.

Loved the flavors. Pork and apples being a classic combo it would be hard to go wrong there. The thing that I have to mention is that the apple juice, mustard and cream didn't like each other much. As soon as I added the cream to the pan it separated and looked curdled. It's fresh cream that I got yesterday and was opened tonight and it's fine. Perhaps my heat was too high? I didn't add any salt as ham is so salty on it's own and I didn't think that pepper spots would look nice in the pic. Over all this is very tasty and quick to make (always a +) and we enjoyed it. Made for Photo Tag.
Remove rind and trim off all but 1/4-inch of outer fat. Cut ham into two serving pieces. Score the fat edge at 1-inch intervals so the steak does not curl during cooking.
Lightly saute, ham on both sides in butter for 3-4 minutes a side. Remove ham steak to a plate and keep warm.
Add diced apples and saute until somewhat soft. Stir in mustard and cider and reduce until the cider has almost entirely evaporated.
Slowly wisk in the heavy cream and reduce until slightly thickened. Season to taste with salt and pepper and spoon sauce over steak.