Ham Steak With Apple Stuffing
Bergy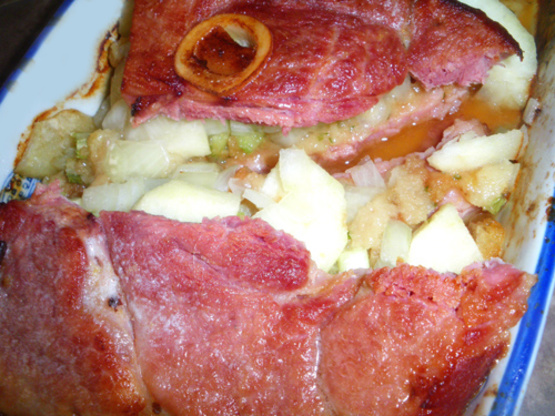 For the stuffing, you can experiment with different types of bread or flavored croutons. I especially like making my own stuffing so I can control the sodium level - and especially in this case since ham is salty anyway.

Top Review by Bergy
Lovely recipe - We enjoyed our Easter dinner. I used Turkey stuffing mix instead of the bread cubes & poultry seasoning. The cloves are a lovely flavor enhancer. I loosely covered the steak with foil for the first 30 minutes and baked it a further 20 minutes uncovered - Just right
Preheat oven to 350 degrees.
In medium saucepan over medium heat, saute celery in butter; remove from heat and add next 7 ingredients; mix well and set aside.
In a cup, wisk together the orange juice and melted butter; set aside.
Slash the fat around ham to prevent it from curling, and place one of the steaks in a greased baking dish.
Spread with apple stuffing.
Top with remaining ham steak.
Stud the fat around the edge with whole cloves, spacing them 1" or 1-1/2" apart.
Bake 1 to 1-1/4 hours or until done, basting 3 or 4 times with the orange juice/butter mixture.