GaylaJ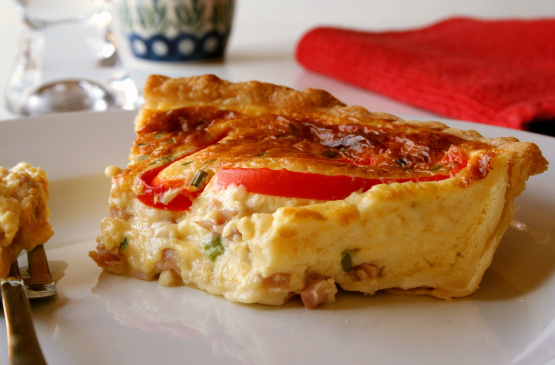 I am fast becoming hooked on quichés and breakfast casseroles. My tastes have changed so much since becoming a member of recipezaar. Things I would never eat before I love now. I guess I just needed to try them.

Simply fantastic.... a little note: As mentioned before, this does take a little longer then the stated time to solidify....I left it in for a whole 20mins more then called for time. But well worth the wait, it was delicious and my three young kids went back for seconds (rare!) and raved about how mom was the "best cook ever" :o) I didn't let them know it was a Zaar recipe!
Mix ham, bell pepper, green onion, cheese and flour; toss all ingredients lightly.
Mix half-and-half gently into eggs.
Still gently; fold ham mixture into egg mixture.
Pour this mixture into unbaked pie shell.
Bake 10 minutes at 425 degrees, and then lower heat to 325 degrees and bake 20 minutes more or till done.