Nasseh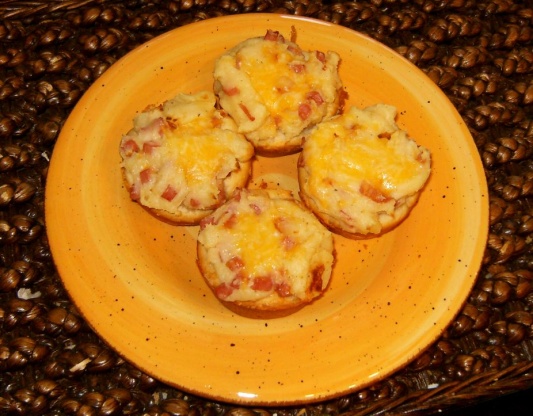 A versatile, easy recipe for leftover mashed potatoes and ham. Serve with steamed green beans, cauliflower, corn on the cob, or broccoli. Concerning the seasonings, the exact cheese, the use of green onion, or maybe bacon instead of ham, feel free to experiment. I also think if you had ham and some sort of leftover potato casserole you could use the same technique. In any case, relax and have fun with your leftovers!

Very Good! I ended up with too many mashed potatoes so I was looking for a way to use them up! I ended up making my own biscuits to use with this and they turned out very well! Thanks!
Preheat oven to 350 degrees.
Spray a 12 count muffin tin with cooking spray.
Mold biscuits to the shape of each biscuit cup. You will need to snip a bit from each in order to get 12 altogether-the biscuits I buy only have 8 in them.
In a large bowl, combine the ham, potatoes, 3/4 cup cheese, parsley, and garlic powder if using and green onion if using.
Divide ham mixture between the 12 cups.
Bake for about 25 minutes, or until done. (Use a toothpick to check if biscuit is done, then use a spoon to see if underside is brown enough, if not bake longer).
Sprinkle with remaining 1/4 cup of cheese and continue baking until cheese on top melts. (I put a large cooking sheet underneath so that the melting cheese does not mess up my oven).
Serve warm.
Refrigerate leftovers, or freeze.