mayzee48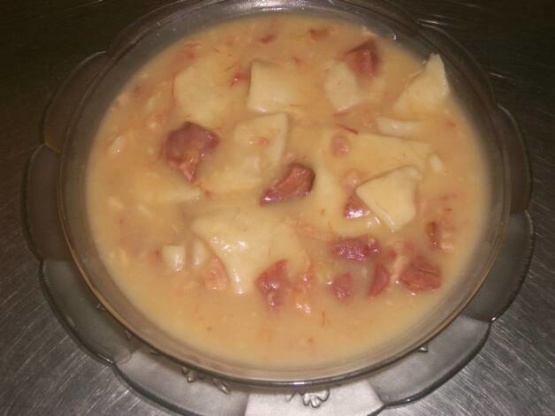 This is a Pennsylvania Dutch recipe my mom has made all my life and it is my favorite dish. She usually serves it alone or with some small side dish, because everybody fills there plate with the pot-pie. My husband never heard of it till I made it for him. Now it is one of his favorite dishes.

Thank you for posting this! My nana used to make this for us when we would come to visit, sometimes throwing in a handful of green beans or shelled peas from the garden. A wonderful recipe!!
Place ham in large pot and cover with water.
Boil to make ham broth.
Cut ham into cubes and set aside.
Place potatoes in broth to cook while you are mixing dough.
In large mixing bowl, mix flour, eggs, and milk to form soft dough.
You may need to add a little more milk.
Roll dough to 1/8" to 1/4" thickness (depending on preference).
Cut dough into 1" by 3" rectangles.
Drop dough into broth one piece at a time.
Cook until dough is done.
Add ham.
Salt and pepper to taste.
Add parsley for color.