Ham on the Street Coffee Rice Krispies Bars, Simple and Yummy!
Redsie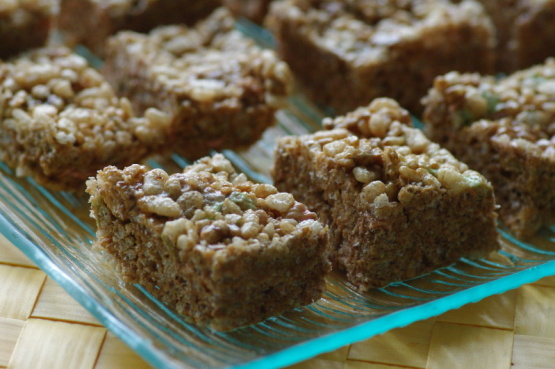 We love the Food Network show "Ham on the Street" in an episode we watched Chef made Rice Krispies squares with coffee on the trunk of a NYC cab with a hot plate. We decided to try them, in the kitchen of course, and they were SUPER! What a great change from the average krispie treat! NOTE: This is a recipe that I inherited from the Zaar Account and it has been drawn to my attention that the origonal recipe contains 10 oz of marshmellows, and that 16 oz might make it a little sticky. Since this hasn't been a problem so far with most reviewers and indeed some had success when adding even more marshmellow, I won't change the ingredients as stated but will mention it here in the description. I think that maybe the brand of Marshmellow you use might make a difference ? I have also added Chocolate as an optional extra for drizzling over the top, but quantity given is a "guess-timate" becuase personal preference in how thick you wish to make it, is everything!

These were tasty, easy and different. Only complaint was the inconsistent marshmallow amounts based on size. I only had mini and had exactly 4 cups which was appx 1/2 pkg. This would equal 5 oz. No way was it enough to cover 6 cups of krispies. I used 5 cups of krispies and wished I had only used 4 cups as they were a little crumbly. If using minis, I would use the whole pkg (10 oz) also. Based on previous reviews, I also reduced the coffee to 2 Tbls then drizzled with white chocolate. Thanks for posting!
Melt margarine in sauce pan over low heat add marshmallows, coffee and stir until completely melted.
Add Rice Krispies until completely coated.
Using your clean hands, spray your hands with with non-stick spray, press evenly into a 9x13 cooking spray coated pan.
Cut into squares when cool.