lazyme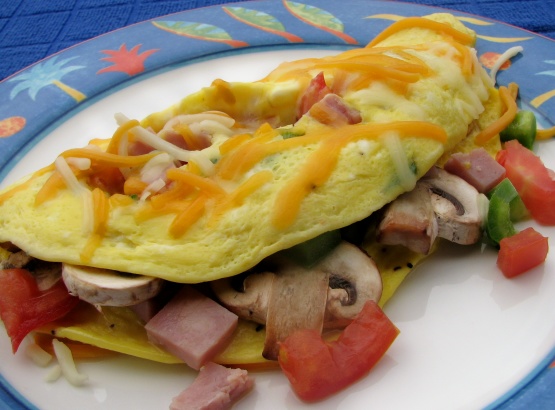 Not your boring everyday egg omelet by any means! The trick to this (or any omelet) is try to avoid overcooking, as the omelet tends to get dry, you will love this for brunch or even for week night dinner with a small side salad and a crusty roll, it's easy and so delicious! Prep time includes chopping veggies, and cooking time is only estimated.

Wonderful! Light and fluffy. I loved the combination of cheddar and mozzarella, as did DH. I don't use garlic salt, so I substituted garlic powder and I sauteed the veggies slightly, personal preference.. A keeper, thanks for posting the great clear instructions!. Made for I RECOMMEND 2012
In a small bowl, beat the eggs, pinch baking powder, cream, onions, garlic salt and pepper (if not using the garlic salt, season with regular salt).
Heat butter in a 10-inch skillet over medium-high heat; add in the egg mixture.
As the eggs set; lift the edges with a spatula, letting uncooked portion flow underneath.
Sprinkle with ham, green peppers, tomato and mushrooms.
When eggs are set (but moist), remove from heat, and fold omelet in half.
Sprinkle with both cheeses; cover the frypan for about 1-2 minutes or until cheese has melted.
Serve immediately.