ChefLee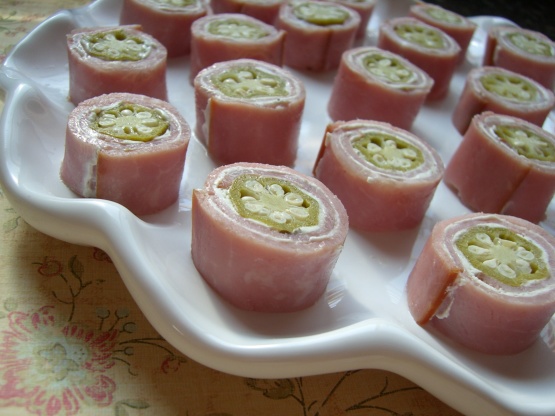 I accidentally ate one of these thinking it was stuffed with a green olive because I wouldn't have touched "pickled okra" with a ten foot pole! Now i'm hooked on the stuff! This is a quick and easy finger food. The taste is awesome! Please let me know how you like it!!!!!!!!!
A couple of pieces of advice, learnt the hard way: don't use whipped Philadelphia--it's too lumpy and bubbly to spread evenly. Regular Philadelphia warmed to room temperature works great. Also, thickly sliced, dry ham will make neater, more appealing spirals. If your ham says "water added," pat it dry and then let it air-dry in the fridge for a couple of hours or so. Looks so simple--3 ingredients with no mixing or cooking, but as with many things in life, there's more to it than you'd think at first glance. Done well, this is eye-catching and delicious and will keep everybody satisfied while you're finishing the main course.
1

package sliced sandwich ham (the rectangular shaped)

8

ounces cream cheese

1

jar pickled okra
Bring cream cheese to room temperature or soften in microwave.
spread thin layer over 1 side of ham slice.
Cut each end off okra slice.
Lay okra slice over cream cheese at 1 end of ham slice.
Roll up and refrigerate until firm enough to slice.
Slice into 1/4" swirls.
Lay flat on serving platter.
Cover with plastic wrap and chill until ready to serve.